Peach Jam with Vanilla Rum and Thyme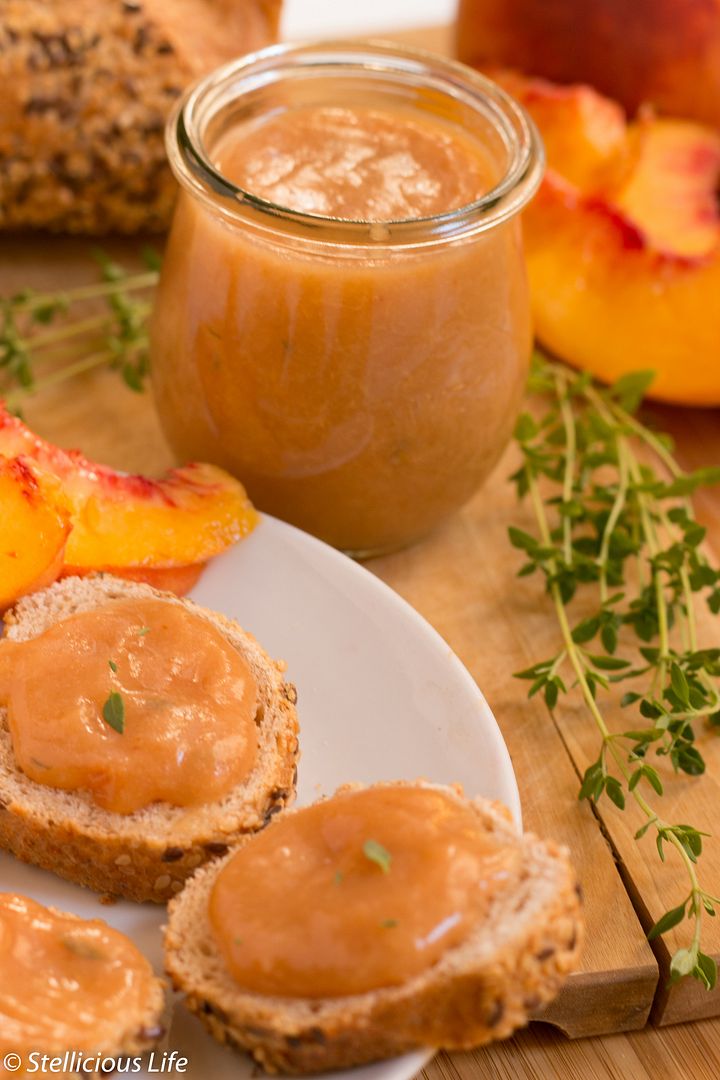 Recipe type:
Jam & Preserves
1000 gr peaches
150 gr coconut sugar / raw cane sugar / xylitol
juice of 1 lemon
1-2 teaspoons of vanilla extract
1 small handful of fresh thyme leaves (or 1 tablespoon of dried thyme)
5 cl Bacardi white rum
In a bigger pot boil water and put the peaches in the boiling water for 2-4 minutes.
Take out the peaches and carefully peel them (you may want to wait for them to cool a bit).
In a saucepan mix together the halved and sliced peaches, the sugar, lemon juice, vanilla extract and thyme, and cook on low heat until the peach softens.
Mix in the Gelfix, continue cooking on low, stirring constantly so it doesn't burn, until your jam starts to boil. Continue boiling until the mixture thickens. (Put a spot of jam on a chilled plate and if it solidifies then your jam is ready to be put into streilized jars. (If the jam is still liquid, keep it on low and stir it occasionally, it will thicken.)
Add in the white rum and while stirring boil it for another minute.
Take it off your stove and with an immersion blender blend until there are no more peach chunks.
Pour into sterilized jars, screw the lids on tight and put them upside down on a tray. After 5-10 minutes turn them over and let them cool.
1. I prefer my jam not to be too sweet and have the taste of fruit be dominant, but while cooking, taste the jam and if you find it not sweet enough add some more sugar.

2. If you use dried thyme use much less as their scent is more powerful than the fresh ones.
Recipe by
Stellicious Life
at http://stelliciouslife.com/peach-jam-with-vanilla-rum-and-thyme/